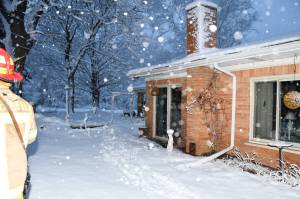 The Chesterfield Fire Department was dispatched to 55250 Baker Rd on Wednesday afternoon for a structure fire.  Upon arrival, crews found a ranch style home with smoke showing from the entry door on the Alpha (front) side of the dwelling and the occupants standing outside.  A first alarm was requested as well as additional EMS units to provide shelter for the occupants due to inclement weather. Occupants stated that everybody was outside of the structure with the exception of three cats.  A primary and a secondary hose line were deployed to the front door on the Alpha side.  An interior attack was made for fire control and a primary search.  Upon entry, the interior crew found and quickly extinguished the fire which was located in one of the bedrooms.  A rapid primary search was conducted and an all clear and fire control were declared.  The entire structure including the attached garage and attic space were checked for fire extension and a secondary search of the dwelling was conducted finding two of the three cats which were returned to the homeowners.  The structure was vented horizontally with natural ventilation.  DTE as well as the Water Department were requested to the scene to secure the utilities and the propane tank for the house was shut off by fire crews.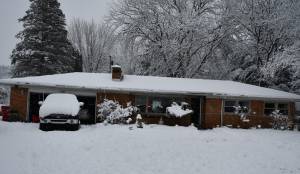 Further investigation revealed that a primary electric line located on the Charlie (rear) side of the structure had fallen onto a service drop that extended from the pole to the house causing the entire structure to energize.  The homeowner stated that she heard a loud boom from the rear of the structure and that sparks started to come from all of the ceiling lights and wall outlets as the house stared to fill with black smoke.
The scene was turned over to the Fire Investigation Division to determine a cause and origin.  Upon completion by the Investigator, the home was returned to the homeowner.